Okay, so it's a little late to be posting about Father's Day, but I don't seem to be able to do anything on time these days. I think I need this:
You know if you search "Sorry I'm Late shirts" in Google images you get images of people who have taken the time to style their Sorry I'm Late shirts, i.e.:
I am late because I left my shoes in a wooded area and couldn't find them.
When you take the time to style your Sorry I'm Late shirt and make an entire Sorry I'm Late ensemble (and then take a picture), it probably explains why you are late.
The creator of this ensemble had another issue:
in that she had to time travel back to 1995 to create her outfit. I mean, I can't tell the scale of that backpack, but I'm pretty sure it's one of those tiny backpacks that was all the rage in the mid 90's.
Felicity
and
Baby Spice
wore them and they were perfectly balanced by four inch-high platform sandals. I recently saw a picture of Miley Cyrus toting a tiny backpack, which means she's ruined
both
teddy bears
and tiny backpacks forever.
Obviously, you all can tell that I'm late with my Father's Day post because I got "busy" Googling, "Sorry I'm Late shirts" and looking up pictures of 1990's celebrities wearing tiny backpacks.
So, what was I talking about? Oh, yes, Father's Day. The K usually does something like going to REI over Memorial Day weekend and coming home with a $1500 bike and then saying, "Oh, I already got my Father's Day gift." Well, good for him I guess, because there's absolutely no way
I'd
ever get him a $1500 bike for Father's Day. Number one, I'm way too cheap. He's lucky if I get him a full-price Vineyard Vines shirt for Christmas. Number two, I don't know anything about the K's hobbies, so I can't go to the store and spit out a bunch of technical bike talk and come home with what he wants. If it were left to me, he'd end up with a bike like this:
A Pinkalicious bike. This pisses me off. The amount of money that those sisters
have made on their rip-off of "Chocolate Fever" is just obscene. Okay, the training
wheels are kind of cute.
I'm sure y'all know what I mean. If the K wanted some fishing gear, he'd have to get it himself because I'd just get him a gift certificate to Whole Foods so he could buy some fish. This year, however, the stars aligned and I actually managed to come up with something that the K wanted and that wasn't too complicated for me to purchase on my own. The K casually mentioned that it would be great to have a better cooler for baseball tournament weekends. Then, my friend E got her husband a
YETI Cooler
for their anniversary and raved about how it keeps ice, well, icy for
days
. The final piece of the puzzle came together when E told me that I could buy a YETI at
The Coolest Ace on the Planet
aka Intown Ace Hardware, which is less than a mile from our house. Jackpot!
Just in case you're not familiar with the YETI, it's like the Rolls-Royce of coolers. I guess we have premium beer and premium water, it was only a matter of time until someone invented a premium cooler to keep them cold. (Coming soon: premium ice.) From the YETI website, the target consumers of the coolers are fishermen (you can stand on it to cast...whatever that means) and hunters (they're grizzly proof). And the YETI website features testimonials from YETI "ambassadors" who are famous hunters and fishermen who endorse their products. I've never heard of any of the famous outdoors men and women, but they look incredibly bad-ass posing with a variety of animals and fish that they've killed. Since I nearly fainted when I had to
get rid of a dead rat
, you can be sure that if we have an apocalypse I'll be trying to make my way to a YETI ambassador so I won't starve.
The "Duck Dynasty" guys aren't ambassadors, either because they're too
controversial or because their endorsements are too ambiguous.
I mean, what kind of boot are we talking about? Because the 1990's boots in
the second Sorry I'm Late style board don't really scream "tough."
The flaw in my plan came when the kids and I stopped by Ace to check out the YETI in person and I saw the price. Briefly I thought that it would probably be cheaper to buy an iceberg and have it towed to our backyard to have a constant supply of ice at our disposal. But, then I remembered that the K's last Father's Day gift was tickets for the entire family to see a Braves game. Despite whatever I posted on Facebook that made it look like we were having fun, the Baby started whining, "want to go home," five minutes after we arrived, then it started raining, and we lasted four innings before the K's nerves couldn't take the whining and the rain and we all left.
Then
, the K took a wrong turn on the way home and we ended up on I-20W and practically drove to Birmingham. I can't remember what I dropped on the Braves tickets, but it was probably comparable to the price of the YETI, and I couldn't see how buying the YETI would result in a familial breakdown and a drive to Alabama.
I was a little unsure of what size of the YETI to buy, but the website had this helpful guide:
"What'd you do this summer, Tanner?" "Not much, Bro. Just did some YETI cooler modeling."
Along with weighing in at 180, I can also tell you that Tanner must be working on his triceps dips because along with being tough as a boot, the YETI is heavy as a boot...full of a thousand little boots made of lead. We went with the 50 because it seemed like a good compromise between the little guy (called the Roadie, open container laws be damned) and the big one which looks like a coffin.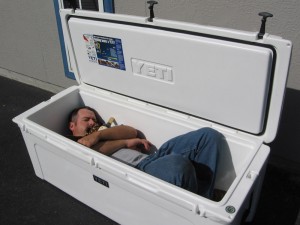 Or a bed. I hope.
The 50 also seemed like the biggest one that I could carry before it was filled with ice. After it's filled I might be able to drag it a few inches, but then one of the YETI ambassadors or Tanner would have to carry it for me.
The YETI comes in three colors: white, blue, and tan. Ace only had the 50 in tan in stock, but Tony at Ace said he'd be happy to order another color if the K wasn't happy with the tan. The K decided to keep the tan because for our primary use (Georgia baseball games), the K thought the tan would look the best stained with red clay.
The big reveal!
The K was very pleased with the YETI and I can attest to its ability to keep ice solid for a really long time. Here's a picture of some ice that the YETI kept cold for
five
days.
Five day old ice kept cool in the YETI.
Really, the only bad news about the YETI, other than the price, is that it is so big that its current home is our family room because we don't have anywhere else to put it. But, trying to look at the bright side, the truth is that we could use some extra seating in the family room and since the YETI costs as much as the set of chairs I've had my eye on, it really all works out. Obviously, if you can stand on it to fish, it's sturdy enough to sit on while watching HGTV. I'm pretty sure that we're going to be the next YETI ambassadors. Who better to testify to the YETI's ability to keep Capri Suns cold at little league baseball tournaments, while still being comfortable enough to lounge on while watching, "House Hunters?" I'll dress in my best camouflage ballet flats for the photo.