Best Halloween Ever
- 1980, Halloween birthday party. Pre-Pinterest, Mom put together a haunted house in our terrifying-under-normal-circumstances basement. Party guests were blindfolded and touched a dead man's "eyeballs" (peeled grapes), "intestines" (cold spaghetti noodles), and hand (surgical glove filled with wet sand). I dressed like a fortune teller in some hippie clothes borrowed from Mom's artist friend.
Worst Halloween Ever
- 1993, Austin, Texas. I woke up to find out that
River Phoenix had overdosed outside the Viper Room
and (unrelated) that my Toyota Carolla had been towed to a dump/impound lot in southeast Austin.  I spent November 1st bumming a ride to the lot (guarded by an actual junkyard dog) and retrieving my car from a guy who, between his lack of teeth and heavy Texas drawl, was nearly impossible for me to understand. Okay, technically that was the worst November 1st ever, but since the precipitating events actually occurred on October 31st, I'm calling them for Halloween. If only the Internet had been around, I could have crowd-sourced my $75 towing fee like
this girl did
when she took an unexpectedly pricey Uber.
In other news, someone needs to come up with a funny Uber picture, because this is all the Internet's got:
2010's favorite meme subject, Ryan Gosling:
Oprah: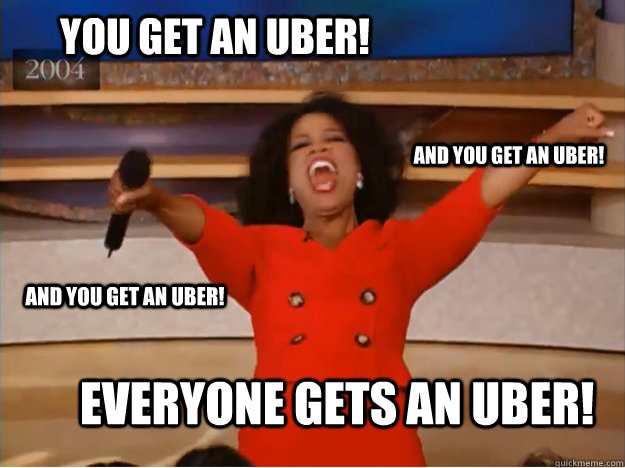 and, of course:
Let's get some new meme material. I'm
old
 and I've grown bored with Hey, Girl and The Most Interesting Man. I will never say a bad word about Oprah because she could find and destroy me. Plus,
this
will never not make me laugh. That Oprah, rich as she is, would take a road trip is amazing (even if she made her BFF Gale King do all the driving). You'd never catch Streisand and Walters on a road trip; no makeup, dirty hair, eating Corn Nuts and drinking Mr. Pibb, nary a soft focus filter in sight.