As some of you all know, the whole OWTL family has decamped to Orlando for our first family Disney experience. I went to Disney once when I was a little kid and once as a teenager. The K's family went a couple of times. Their family was kinda fancy and stayed at the Disney Contemporary Resort, which looks suspiciously like the Watergate Hotel.
The Watergate Hotel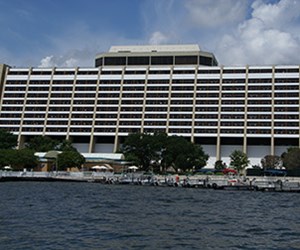 The Disney Contemporary Resort - but that easily could be the Potomac.
My family stayed at some hotel so far away that we had to rise at dawn to make it to Disney. I was about 11 and as the alarm sounded at o'dark 30, I moaned, "there's something
wrong
about getting up early to have fun." I was wise beyond my years. Surely my parents must have done some research before we went, but I know the lines were ghastly and Dad's strategy was that we would go to what ever attractions had the shortest lines. So, I think we went to the
Swiss Family Tree House
eight times.
So, our adventures began before we even left home on Saturday. On Friday, the Girl woke up and the glands in her neck were so swollen that she looked like a bullfrog. The K juggled his schedule and took the Baby to school and I shuttled the Girl over to the doctor. The good news: not mono, because that would have sucked. The bad news: tonsillitis. The other bad news, I hadn't packed anything yet and I was chaperoning a walking field trip for the Boy's class at noon. Mom stayed with the Girl and I helped walk the Boy and his class to a local retirement home where the kids sang and gave out valentine lollipops to the residents. One lady toddled after our group and said, "take me with you, don't leave me here with these
old
people." We left her there. Sorry lady, after a few minutes you'd be saying the same thing about being left with a bunch of seven-year-olds
Like this guy who spent too long with a baby and turned into an evil clown.
This same thing happened to my friend's uncle.
After the Baby and the Boy got home from school, I dragged the kids to the service station to get the oil changed in the swagger wagon. Then I
finally
got around to packing. By about 9:00 pm I thought I was in decent shape until I started texting with my friend Robin, whose family was also going to Disney.
Here is the
ultimate packing list
courtesy of
Mousesavers
, a Disney deal website. If you don't feel like looking at the two-page list full of stuff, let me just share with you some items on the list: frisbee, walkie-talkies, moleskin, foot spray, evening wear, mister fan and extra batteries, and a neck lanyard. I have never used any of these items in my regular life, but at 9:00 pm the night before leaving for the trip I seriously started panicking that the Disney gurus knew better than I did and that I would have a desperate need for a mister fan and not have one. The joke about Mom is only that she is very, very organized about travel and would not only use a list like the ultimate packing list, but she could write one. This is why I am sure that she must have researched Disney before my childhood trip to the Park and there must have been a deliberate strategy to go on the shitty rides.
But, gosh if we didn't actually leave at about 10:30 Saturday morning, deciding that we'd make a go of it even without walkie-talkies. The Girl was feeling better, so, yay! Here's the thing about the drive on I-75 from Atlanta to Orlando: from slightly south of Atlanta until just south of the Florida border, you see many, many billboards advertising adult bookstores, "massage" parlors which "welcome truckers," and "Strippers...Need we say more?" I was happy that the Girl and the Boy were engrossed in their iPad games so that I didn't have to answer any questions. Then, you drive a little ways into Florida and the billboards change to very religious and specifically, anti-abortion. The whole thing struck me as internally inconsistent. Florida needs to get more on-message and decide whether it wants to be a den of sin or part of the Bible belt, because right now it just seems confused.
I won't bore you with the details of the trip because if you have kids you know what it's like to drive for "6 hours and 34 minutes" aka 8 hours with children. If you don't have kids and are thinking about having them, I don't want to dissuade you. If you don't want to have children, it will only confirm your beliefs about traveling with children. When we finally got to our hotel room it was close to 7:00 pm, at which point like lunatics, we decided to hit Epcot for dinner and the 9:00 fireworks display. Because? Who the hell knows? It seemed like a fun way to get things started.
At the Electric Umbrella
So, it turns out that the Boy and the Baby do not like fireworks because they are too loud and scary. Good things to know since
everything
we were planning to do for the next five days would be loud and/or scary. Off to a great start! But, the Girl
loved
the fireworks and it was an incredible show. I'm glad that we forced them to go, especially on the first night because by later in the week everyone is way too tired for such late-night escapades. We got back to the hotel and collapsed into to bed. Well, except the K and I who collapsed into sofa bed because I screwed up/was misled into thinking we'd have two bedrooms when, in fact, we only have one. A bit of a bummer, but I've been so tired that it hasn't really mattered.
So, tomorrow we get to the good stuff: Tomorrowland and Fantasyland at the Magic Kingdom! Woo-hoo!